THE CROSSING OF CRABTREE LAKE

by Melinda Lee-Van Bossuyt
Our camp was next to Crabtree Lake at the 10,800 foot level beneath the Le Conte Divide in the John Muir Wilderness. Our family of three humans and four llamas had enjoyed this place for several days. The scenery was absolutely stunning. Every image was vivid and alive. We all felt very aware of every rock, every little plant, and every molecule of air. The lake sparkled like a carefully cut jewel placed in the finest of settings.
Water flowed from above over countless broad, granite outcroppings and slid and bounced down in perpetual motion to the lake below. The llamas lounged in luxurious comfort in lush meadows near our camp. Life was good.
In the morning, we woke to a clear, deep blue sky. We ate a quick breakfast and packed up the whole camp. The llamas ate their morning pellet ration and watched us. They knew it soon would be time for them to go to work again. Finally, Douglas, our son, brought the llamas into camp and brushed each one with special attention to the area along the backbone. Saddles went on Ranger and Ebenezer first, then John and, last of all, Graysun. With panniers loaded and tied down, we set off around the lake.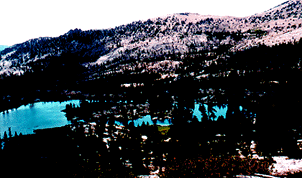 Crabtree Lake
Our first challenge was to be the crossing of the lake near the inlet. This was the only rout possible for us owing to the steep granite cliffs surrounding the lake on the east side. We reached the shore where the crossing was to be made. The four llamas were tied together in a certain order. First, there was old Ranger, a seasoned packer and our best lead llama. Next came our stud, Ebenezer, highly experienced and our most reliable packer. Third in line was John, only his second year of packing, yet steady and unflappable. Last there was Ebenezer's son, Graysun, just three years old and on his first serious pack trip.
Dave pulled off his boots and pants, took the lead line, and plunged into the icy lake water. The four llamas followed in line, each with a splash. The crossing was about 100 feet in length. The water was up to three feet deep. Douglas and I scrambled over the rocks along the shore. I stood on a prominent boulder with camera in hand to record the feat. Water came up to cover the llamas' bellies and wet the pannier bottoms. In a few moments it was over. Dave and the llamas emerged from the lake without incident. Dave dried off and put on his pants and boots. With our family reunited, we were ready to resume our journey. . . .