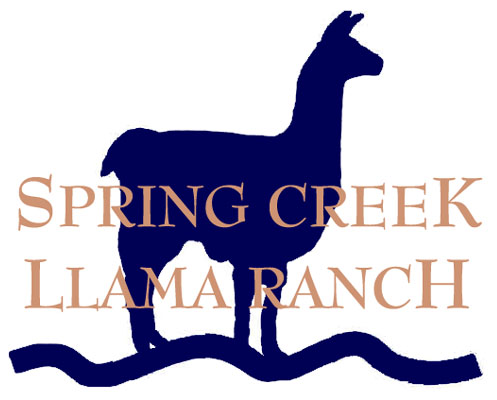 Real Pack Llamas
&
Classic Llama Breeding Stock
---
Welcome to the Spring Creek Llama Ranch Website
We selectively breed for packing llamas.

Our 33rd year packing with llamas.

We provide support for
new llama owners.


---
After 33 years in the llama business, we have retired from breeding and selling pack llamas. This means we are rounding up a small group of llamas to keep for long pack trips in our retirement. Also staying with us are our retired packers and retired breeding females. They are part of our family and will stay with us until the end.

We no longer have any llamas for sale.

We have kept up our pages about our former llamas for historial bloodline information.


---
Check out one of our packing stories!
The Bench Valley Adventure
Lightning struck the ridge above us. It struck the ridge next to us. It struck the ridge below us. We watched from our ravine beneath a granite batholith. Douglas and I were pressed to the ground beneath the very low branches of a couple of squat lodgepole pine trees. Dave was 75 feet away sitting with his knees drawn up to his chest beneath a larger lodgepole. At first, the trees protected us from the heavy rain. Then, the longer and harder it rained, the more water made it through the branches to us. There had been no time to pull our rain gear out of the panniers. We were dressed in jeans and tee shirts. Needless to say, we were getting wet. Fortunately, we had covered the panniers when we loaded up at our lunch stop. At least all of our stuff would be dry, including the rain gear! The llamas were kushed low to the ground. The hail was pounding their heads. The water ran off the granite batholith to the west of our position in torrents.
read more...
(Hit your browser's refresh button to get a different story or click
here
to see the full list.)
---
Read our How-To articles!
Packing Tips - Getting to the Trailhead Transport Your Llama Safely
Once, we sold one of our experienced packers to some folks who picked him up in their mini van. Red Cloud cautiously crawled into the back of the Caravan and lay down. He faced forward and looked out the front of the van through the windshield. The person in the passenger seat held his lead rope. As they drove down our driveway, Red Cloud?s head was sticking out of the top of the van through the open sun roof. It was a pretty funny sight.
read more...
(Hit your browser's refresh button to get a different article or click
here
to see the full list.)
---
---
---
Packing, Articles, and Photos
---
Welcome to the very bottom of the page! All material on this site, including but not limited to, text, images, and site layout and design, is copyright. Copyright © 1983-2012, Spring Creek Llama Ranch. All rights reserved. Nothing may be reproduced in part or full from this site without explicit written permission from
Spring Creek Llama Ranch
. All website related questions can be directed to the
webmaster
or
webmistress
. Questions about llamas, services, or other such things, can be directed to
Spring Creek Llama Ranch
.