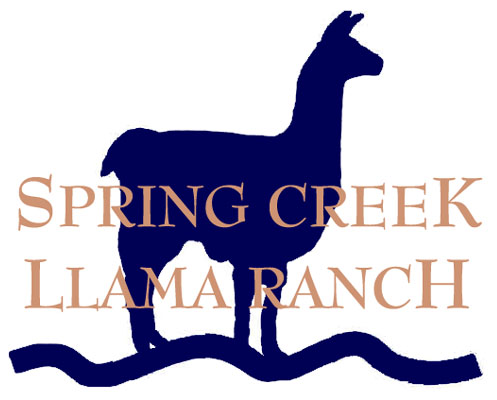 Real Pack Llamas
&
Classic Llama Breeding Stock
---
Welcome to the Spring Creek Llama Ranch Website
We selectively breed for packing llamas.

Our 33rd year packing with llamas.

We provide support for
new llama owners.


---
After 33 years in the llama business, we have retired from breeding and selling pack llamas. This means we are rounding up a small group of llamas to keep for long pack trips in our retirement. Also staying with us are our retired packers and retired breeding females. They are part of our family and will stay with us until the end.

We no longer have any llamas for sale.

We have kept up our pages about our former llamas for historial bloodline information.


---
Check out one of our packing stories!
The Crossing of Crabtree Lake
Our camp was next to Crabtree Lake at the 10,800 foot level beneath the Le Conte Divide in the John Muir Wilderness. Our family of three humans and four llamas had enjoyed this place for several days. The scenery was absolutely stunning. Every image was vivid and alive. We all felt very aware of every rock, every little plant, and every molecule of air. The lake sparkled like a carefully cut jewel placed in the finest of settings.
read more...
(Hit your browser's refresh button to get a different story or click
here
to see the full list.)
---
Read our How-To articles!
Packing Tips - Getting to the Trailhead Transport Your Llama Safely
Once, we sold one of our experienced packers to some folks who picked him up in their mini van. Red Cloud cautiously crawled into the back of the Caravan and lay down. He faced forward and looked out the front of the van through the windshield. The person in the passenger seat held his lead rope. As they drove down our driveway, Red Cloud?s head was sticking out of the top of the van through the open sun roof. It was a pretty funny sight.
read more...
(Hit your browser's refresh button to get a different article or click
here
to see the full list.)
---
---
---
Packing, Articles, and Photos
---
Welcome to the very bottom of the page! All material on this site, including but not limited to, text, images, and site layout and design, is copyright. Copyright © 1983-2012, Spring Creek Llama Ranch. All rights reserved. Nothing may be reproduced in part or full from this site without explicit written permission from
Spring Creek Llama Ranch
. All website related questions can be directed to the
webmaster
or
webmistress
. Questions about llamas, services, or other such things, can be directed to
Spring Creek Llama Ranch
.