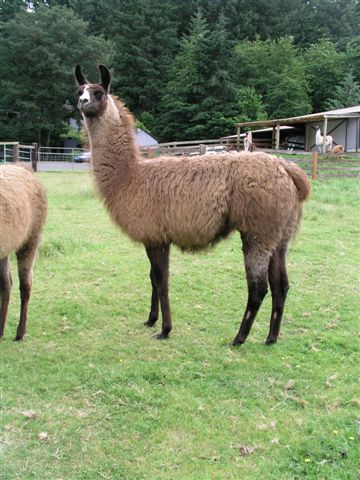 Sunshine Again


Mother: Sunshine
Father: Magma


DOB: May 30, 2003


ILR#253951


Height: 45" withers, 46" hip, 26" ground clearance on October 19, 2005.

Family: Sunshine Again's father is our big and strong pack stud, Magma. Her mother, Sunshine, produced 12 great offspring in her lifetime. There are six packing brothers, four breeding sisters, and one packing sister. Sunshine produced some of the tallest animals on our farm. She produced lots and lots of milk and her babies grew accordingly. Father, Magma, has led our string since about 1997 and stands 47 inches at the withers. He has many babies to his credit.

Disposition and physical attributes: Sunshine Again is a sweet llama. She is fairly smart and has trained fairly easy. We have been able to trim her toenails free-standing in the stall (no halter, no lead rope). She likes to go for walks. Sunshine Again is a classic type with bare face and legs and a short to medium length fiber that has lots of flowing guard hair. She has the characteristics that will make a good pack llama. She has the heritage to be a fine producing female.

Training: Desensitized. Picks up all feet. Halters and leads. Stands for brushing.