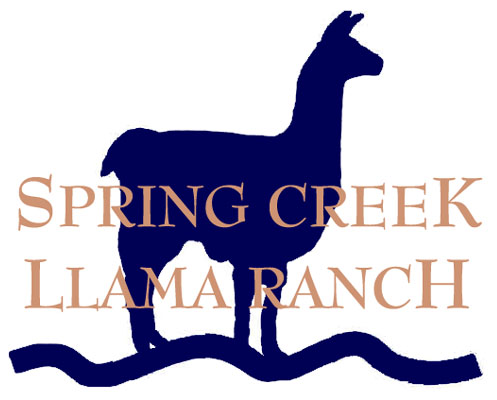 Real Pack Llamas
&
Classic Llama Breeding Stock
---
Welcome to the Spring Creek Llama Ranch Website
We selectively breed for packing llamas.

Our 33rd year packing with llamas.

We provide support for
new llama owners.


---
After 33 years in the llama business, we have retired from breeding and selling pack llamas. This means we are rounding up a small group of llamas to keep for long pack trips in our retirement. Also staying with us are our retired packers and retired breeding females. They are part of our family and will stay with us until the end.

We no longer have any llamas for sale.

We have kept up our pages about our former llamas for historial bloodline information.


---
Check out one of our packing stories!
Magma's Great Adventure - The Story of a Lost Llama and How His Adventure Became Our Own

Just as Dave turned to walk in Magma's direction from our campsite, Magma realized he was loose. He ambled over to the creek, plowed right across, and, once on the other side, ran up the trail. Dave and Douglas followed behind him. Once at the main trail junction, Magma turned and ran at full speed down the trail in the direction of the trailhead. read more...


(Hit your browser's refresh button to get a different story or click here to see the full list.)



---
Read our How-To articles!
Trail Issues - Who Has the Right-of-Way? Close Calls with Dogs. A Llama Dies.

It occurred to me while hiking this summer that perhaps some folks might be confused about who has the right-of-way when meeting on a trail. Like in the game of Rock Paper Scissors where rock breaks scissors, scissors cut paper, and paper covers rock, there are rules about who stops and waits and who goes when two parties meet on a narrow path. The rules are based on safety, courtesy, and ease of execution. read more...


(Hit your browser's refresh button to get a different article or click here to see the full list.)