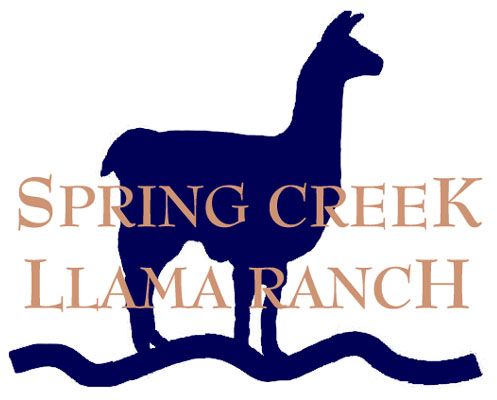 Real Pack Llamas
&
Classic Llama Breeding Stock
---
Welcome to the Spring Creek Llama Ranch Website
We selectively breed for packing llamas.

Our 33rd year packing with llamas.

We provide support for
new llama owners.


---
After 33 years in the llama business, we have retired from breeding and selling pack llamas. This means we are rounding up a small group of llamas to keep for long pack trips in our retirement. Also staying with us are our retired packers and retired breeding females. They are part of our family and will stay with us until the end.

We no longer have any llamas for sale.

We have kept up our pages about our former llamas for historial bloodline information.


---
Check out one of our packing stories!
Incident at Mather Pass
It was still frosty and cold as we began our climb up the mountain toward the pass. Though we were working hard in the thin air as we made our way upward, we were not getting too hot. We kept on a layer or two.
Pretty soon we were following a zigzag of switch backs up the steepest part of the climb. There were occasional snow patches that obliterated the trail. Sometimes it was difficult to pick out where the trail continued. There was no vegetation, only the rocky rubble of the steep talus slope and snow. Then we came to the big one, the big snow chute.
read more...
(Hit your browser's refresh button to get a different story or click
here
to see the full list.)
---
Read our How-To articles!
Packing Tips - Don't Forget the Salt
It was our third day going in. The weather was hot, dry, bright, and sunny as it had been each day. We were climbing over the 10,000 foot elevation and pushing to reach our next camp in a high mountain basin. As we traversed open expanses of granite bedrock, one of our best llamas began to drag. We slowed down. When he laid down to rest, we knew something was wrong.
read more...
(Hit your browser's refresh button to get a different article or click
here
to see the full list.)
---
---
---
Packing, Articles, and Photos
---
Welcome to the very bottom of the page! All material on this site, including but not limited to, text, images, and site layout and design, is copyright. Copyright © 1983-2012, Spring Creek Llama Ranch. All rights reserved. Nothing may be reproduced in part or full from this site without explicit written permission from
Spring Creek Llama Ranch
. All website related questions can be directed to the
webmaster
or
webmistress
. Questions about llamas, services, or other such things, can be directed to
Spring Creek Llama Ranch
.