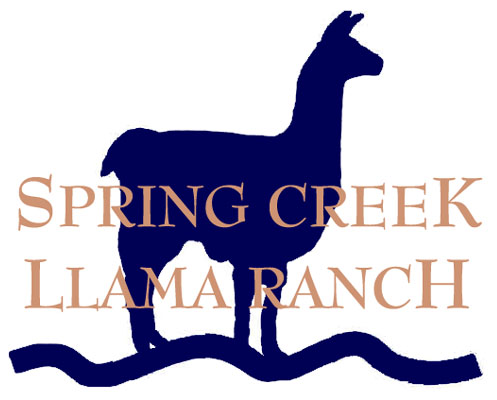 Real Pack Llamas
&
Classic Llama Breeding Stock
---
Welcome to the Spring Creek Llama Ranch Website
We selectively breed for packing llamas.

Our 33rd year packing with llamas.

We provide support for
new llama owners.


---
After 33 years in the llama business, we have retired from breeding and selling pack llamas. This means we are rounding up a small group of llamas to keep for long pack trips in our retirement. Also staying with us are our retired packers and retired breeding females. They are part of our family and will stay with us until the end.

We no longer have any llamas for sale.

We have kept up our pages about our former llamas for historial bloodline information.


---
Check out one of our packing stories!
The Crossing of Crabtree Lake

Our camp was next to Crabtree Lake at the 10,800 foot level beneath the Le Conte Divide in the John Muir Wilderness. Our family of three humans and four llamas had enjoyed this place for several days. The scenery was absolutely stunning. Every image was vivid and alive. We all felt very aware of every rock, every little plant, and every molecule of air. The lake sparkled like a carefully cut jewel placed in the finest of settings. read more...


(Hit your browser's refresh button to get a different story or click here to see the full list.)



---
Read our How-To articles!
Pasture Peril

Sometimes you get used to things the way they are. This can be the case in one's own barnyard and pasture. Familiarity may blind us to problems and hazards right under our noses. This happened to us recently. Perhaps my story will help some of you prevent a possible catastrophe, as we did. read more...


(Hit your browser's refresh button to get a different article or click here to see the full list.)