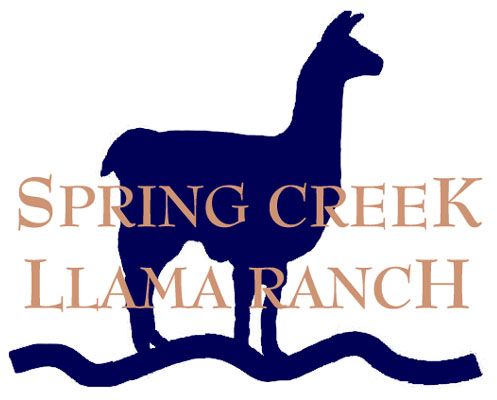 Real Pack Llamas
&
Classic Llama Breeding Stock
---
Welcome to the Spring Creek Llama Ranch Website
We selectively breed for packing llamas.

Our 33rd year packing with llamas.

We provide support for
new llama owners.


---
After 33 years in the llama business, we have retired from breeding and selling pack llamas. This means we are rounding up a small group of llamas to keep for long pack trips in our retirement. Also staying with us are our retired packers and retired breeding females. They are part of our family and will stay with us until the end.

We no longer have any llamas for sale.

We have kept up our pages about our former llamas for historial bloodline information.


---
Check out one of our packing stories!
Weekend Training and Conditioning Pack Trip a Success
As we approached Marion Lake, we took the trail that crosses the outlet stream with a big bridge. There were people standing on the bridge with a dog. We waited for them to get off the bridge before we started across. Graysun was afraid of the dog. We have no dogs at our house so he is not used to them. The water that the bridge spanned was a rushing torrent. Thanks to all the snow melt, the surf definitely was up. The water made an enormous roaring sound. This added to Graysun's anxiety. The experienced string crossed the bridge with calm confidence. Graysun would not go and found himself caught between the dog and the bridge.
read more...
(Hit your browser's refresh button to get a different story or click
here
to see the full list.)
---
Read our How-To articles!
What About Halters?
The halter is a wardrobe essential for any llama venturing outside of the home pasture or stall. A lead rope is attached to the ring at the chin of the halter so that the llama may be led around. This gives the handler a certain amount of control and provides a level of safety for both the handler and the llama.
read more...
(Hit your browser's refresh button to get a different article or click
here
to see the full list.)
---
---
---
Packing, Articles, and Photos
---
Welcome to the very bottom of the page! All material on this site, including but not limited to, text, images, and site layout and design, is copyright. Copyright © 1983-2012, Spring Creek Llama Ranch. All rights reserved. Nothing may be reproduced in part or full from this site without explicit written permission from
Spring Creek Llama Ranch
. All website related questions can be directed to the
webmaster
or
webmistress
. Questions about llamas, services, or other such things, can be directed to
Spring Creek Llama Ranch
.